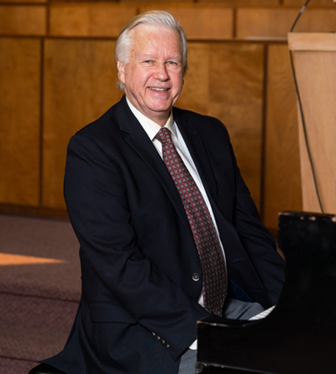 Paul wilhelm
Private Piano Teacher, Composer & Performer
Paul Wilhelm has a passion for imparting the love of music to others through teaching them the art of playing piano. Learning piano enhances the mind and the spirit and brings joy to those who listen. As an accomplished pianist, Paul has composed music and recorded CD's and offers performances of almost any style or time period for weddings, funerals, dinner engagements, and nursing homes. Paul began teaching private piano lessons in the early 2000s and has over 30 years of experience performing and composing.
TEACHING PROGRAM
Paul Wilhelm teaches private lessons to ages 5 and up, to beginners and advanced pianists alike. He offers a thorough understanding of how to play the piano, incorporating sight-reading, theory, rhythm, ear training, technique, improvisation, solfege and composition into lessons. Paul offers two student recitals per year, in addition to other performance and testing opportunities. Tuition for weekly lessons is $25 per half hour, billed monthly or weekly. Books and materials are additional. Paul currently offers lessons on Wednesdays in the afternoon and evenings.
ABOUT paul
M.A. in Music Pedagogy from Eastern Michigan University (currently enrolled)
M.A. in Divinity from Heritage College and Seminary, Ontario, Canada
M.A. in Accounting from Eastern Michigan University
B.A. in Philosophy from Sacred Heart Seminary, Detroit, MI
Member of Music Teachers National Association (MTNA)
Member of Michigan Music Teachers Association (MMTA)
Member of National Federation of Music Clubs (NFMC)
Founder and President of Huron Valley Music Club
CONTACT INFORMATION
Contact Hannah Frantz, Education Director, at 248-560-0366 to register for lessons with Paul Wilhelm.
Note: There is a $25.00 enrollment fee, payable to Steinway Piano Gallery, due at registration. Siblings are $15.00.