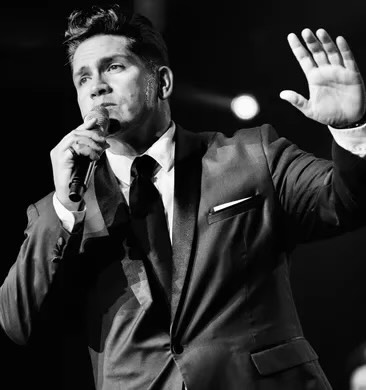 ​​​​​Steinway jazz cafe

with Vocalist Aaron Caruso & The Cliff Monear Group
Wednesday, september 20, 2023
7:00 PM
General Admission: $20
Steinway Society Members: $15
No reservations necessary
Cash or check, payable at the door
(Make checks payable to "cash")
Think "Buble Meets Bocelli." Aaron Caruso presents a unique show that will mesmerize you with the beauty and power of an operatic voice, singing marvelous Italian songs and familiar standards like they should be sung, in a fun entertaining way.
Caruso was chosen by film producer Sonny Grosso and 15-time Grammy winner Phil Ramone to sing the role of Mario Lanza, fulfilling his lifelong dream: Lanza played Caruso – now Caruso will play Lanza!
Join us as Caruso performs music from the Great American Songbook and more.
"You sing like Mario Lanza; I want to see you in the movies..."
- Tony Bennett